Jump to Frank Brines' FUN­da­men­tals
Jump to Calendar of Events
So, you want to be a writer? Read our newsletter writing guidelines here.
---
President's Message
by Virginia Boos
I ran across Abraham Lincoln's quote: "We can complain because rose bushes have thorns or rejoice because thorn bushes have roses." (This was shown in the PawPaw Everlast label email as one of their Life Lessons from the Garden.)
To enjoy a beautiful rose, we have to put up with the thorny bushes of life. Let's put a positive spin on this, and treat our roses with special care, while enduring the scratches of the bush.
---
Boy Scouts Erect a Shed
by Alicia Cline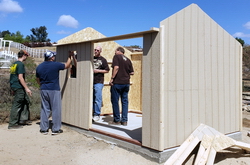 Our 'Families in the Garden' shed is coming along. Michael Sizemore, a local Boy Scout, is doing as his Eagle Scout project. We have been working on this for almost a year for it to come fruition. He has done fundraising, attended every preparation meeting, coordinated almost all the logistics on assembly, leadership of involving his pack members, pack masters/ Dads and so much more. It has been an amazing experience for me to be a part of his journey. It has been not only an education, but truly a labor of love for both of us. He is an outstanding young man.
We are so thankful that he chose Rose Haven for his Eagle Scout project and TVRS with their help funding the rest of cost of shed. It is greatly needed for the 'Families in the Garden' program, it so much appreciated. Here are a few pictures of the steps along the way and the progress this past weekend. Over the next two weekends the rest of construction, flooring, trim and painting will be completed. I will include completed photos in the November newsletter of the finished product.
---
Little Rose Show
by Virginia Boos
The hot weather prevented much of a showing for our exhibit table. We did have 15 entries, as follows: Don Nordike - 'Pope John Paul ll'; Suzy Parsons - 'Tournament of Roses', 'Gemini', 'Mr. Lincoln', and an Unknown; Kathy Trudeau - 'St. Patrick'; Virginia Boos - 'Tiffany', 'Graceland', 'Timeless', 'Pink Iceberg', 'Colorific', 'Swan'.
Also shown by Virginia, the English Box with 'Fabulous!', the glass bowl with 'Fairest One', and the picture frame with 'Classic Woman'. These were not judged, only shown as examples of what can be seen at a formal rose show. Don's beautiful specimen won Rose of the Day.
---
Rose Haven Planning Committee
by Rebecca Weersing
Our garden grows with the dedication and concerted efforts of many people. Please join our Rose Haven Planning Committee. We will exemplify the quote "Many hands make light work". Our next meeting is scheduled for Wednesday, October 30 at 10 am at Rose Haven.
In order to present a proposed budget to the Board of Directors by December, the Rose Haven Planning Committee will be walking the garden during the next month analyzing, critiquing, and generally mulling over the state of the garden. We will present a 2020 maintenance budget that projects such costs as water, mulch, fertilizer, tree trimming, labor needs beyond volunteers – all those monthly necessities to help our garden grow and looking lovely. Beyond maintenance we must plan for such long‑term needs as replacing the driveway, ensuring erosion control, removing/ replacing/ refurbishing various plants and garden areas. We will submit a Capital Improvements Budget to the Board of Directors covering 2020 to 2025.
---
Member Profile: Fay Devor
by Kathy Katz
Fay has spent her life applying her great creative and physical abilities to make lovely things out of very little. For the Rose Society she specializes in making sure there is enough in the kitchen to make sure everyone eats. We have so much fun when she is in the there we tend to get a little too noisy for the meeting.
Fay was born in the Chicago area of Illinois and she and her brother grew up there in the fifties. She even had an accent, but lost it years ago. She had two children with her first husband, but his career move to Florida doomed that relationship. She had a third child with her second husband but illness left her a widow.
She has earned degrees and followed courses of study that allowed her to work in the most difficult and demanding of the caring professions. She became certified as a Pediatric Technician which allowed her to work with neonates, which she did for years, mostly working privately.
She worked with mentally challenged here in California, got a CNA and worked at Ann Sullivan Pre-school in Wildomar. She worked with medically fragile people in the area and recently has moved from working with children to caring for the fragile elderly in their homes.
In the meantime, Fay has done weddings. The reason she can put together lovely arrangements at the drop of a hat is because it is her business. If you need help or advice with flowers or plants she is a good bet. She grows fruit and roses and children and has a new great grandchild. She has successfully paid off her home and keeps trying to retire, but people like her work.
Most of us know he work at meetings but she tries to remain involved in the Saturday programs at Rose Haven and can always be counted on for a program with kids. We are so lucky she has made time for our club in her life.
---
Grocery Cards Benefit TVRS
Dear Members: I trust that you have made a determined effort to use Stater Bros. Scrip/Gift Cards for your everyday normal purchases. Even in these financially difficult times we all must eat. Purchasing a $100 Scrip Card will let you spend $100 for groceries at Stater Bros. There is no extra expense or donation coming out of your pocket and the Rose Society will get a $6.00 donation for the upkeep of the Garden. Your support is greatly appreciated. Email Ann Coakes to order Scrip Cards, or phone (951) 693‑5635.

This Month's Program
Date: Thursday, October 17
Time: 10:00 a.m. to 1:00 p.m. See our meeting schedule here.
Place: Ronald H. Roberts Public Library, Community Room B, 30600 Pauba Rd., Temecula
Topic: Developing Appropriate Monarch Butterfly Habitats - Large and Small
Speaker: Ted Horton, Board Member Audubon International
Ted was Vice President of Resource Management at Pebble Beach Company and is currently on the Board of Audubon International (www.auduboninternational.org), the newest partner of the" Monarch Joint Venture": the largest collaborative established to arrest the decline of monarch butterflies. The project has devoted recent attention to guidance of large corporate, public lands and golf courses in particular to create habitat for the Monarch Butterflies. Audubon International discovered that golf courses represent a wonderful opportunity to plant milkweed and other wildflowers to provide everything monarchs need to survive.
With this thought in mind, "Monarchs in the Rough" was established and through this program, information will be available which will guide land managers through pesticide reduction, site preparation, and planting and long term maintenance of habitat for pollinators using designated areas in golf courses across our nation.
Ted suggests a possible long-term project: "Together we can develop patches of appropriate habitat, flowering plants for nectar and Milkweed for egg hatching sites. We can work together to manage larger, open space habitat that could be adapted to appropriate plantings for the Monarch Butterfly and other pollinators."
A light buffet luncheon will be served around 11:30. Guests are welcome.
---
Birthdays and New Members
| Birthdays | New Members |
| --- | --- |
| Frances Merritt 10/13, Susan Puma 10/20, Grant Thurman 10/24, Judy Sunderman 10/14, Chuck Reiter 10/18 | ♦ Nancy and Roger Fitness, Dee Hydinger, Chuck Reiter, Ava Russo, Lenor McLaughlin |
---
Rose Haven Garden
by Bonnie Bell
Autumn has arrived and with the cooler nights the roses and fall blooming shrubs are bursting into bloom. One of the best blossoming plants in the garden right now is the bright yellow "Tagetes‑Mexican Marigold" which is located in the Southwest Garden next to the rose "Charisma". Like most all plants in the garden this area consists of water-wise plants, including California natives, cacti and succulents.
Please come out and enjoy a stroll through the garden and enjoy all the wonderful sights. If you are inclined to help out in the garden Wednesday and Saturday mornings are volunteer days, however you can work on your own anytime convenient to you.
Visitors have been plentiful and several groups have requested guided tours of the garden. A Support Team of docents has been organized by Rebecca. If you are interested, please contact her at RoseHavenTemecula@gmail.com.
Our next garden committee meeting is Wednesday, October 30th at 10:00 a.m. All interested members may attend the meeting. The address to Rose Haven Heritage Garden is 30592 Jedediah Smith Road, Temecula.
| | |
| --- | --- |
| Chrisma rose | Tagetes |
See the Rose Haven Garden web page here.  Click here to see the Google map to Rose Haven Garden.
---
September Families in the Garden
by Alicia Cline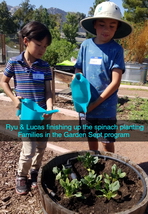 Our Sept­ember, Families in the Garden Event we will be held September 21, 2019. The September program focused on succulents. There was an educational talk on native Southern California varieties, how to root, potting tops and upkeep. We included a craft of take home succulent pots. All were harvested from the Tree of Life and Rose Haven garden. In the Tree of Life, we planted short carrots, bell peppers and spinach. Light harvesting of some tomatoes and Anihem Chillies, which are producing wonderfully. Thank you, Mr. Ben!!!
We are looking forward to our October event. We will be doing education on winter gardens, decorating mini-pumpkins for craft and planting cabbages in the Tree of Life.
We would appreciate any volunteer time on our programs, no matter how small a time. Feel free to come and help out with just the sections, parts you enjoy. We welcome all :) The October 'Families in the Garden' program is October 19, 2019 starting at 9:30 a.m.
---
Upcoming Plant Sales
UCR Botanic Gardens
Garden Market & Fall Plant Sale
Saturday, October 19, 10:00 a.m. to 3:00 p.m.
Free Parking in UCR campus Lot 13 with a shuttle to the garden entrance.

California Native Plant Society
Fall sale Saturday November 2, 2019 9 a.m. to 3 p.m.
Riverside‑Corona Resource Conservation District
4500 Glenwood Dr, Riverside, Ca
---
Temecula Valley Garden Club
Click here for their upcoming monthly meeting news.
Their Facebook page is here.
Rose Care FUN­da­men­tals
by Frank Brines, Master Consulting Rosarian
The next two weeks' weather forecast looks like we are back to a period of more normal temperature for this time of year, but Santa Ana winds could show up anytime now. Make sure you check your irrigation system if you haven't after the heat of summer. Roses should be actively recovering from the light fall pruning you gave them last month.
Last month I gave instructions for mid-season pruning with a suggested timeline for pruning and restarting your feeding program. What may not have been clear is that this is a light pruning, and must be carefully calibrated with the weather conditions. Specifically, when temps remain in the 90+ range, you must take care to not remove too much foliage because this can overexpose canes to the fierce sun, resulting in sunburn, which can damage or kill otherwise healthy canes or even the entire plant.
If you're planning to have roses for a special occasion later this year, it will take hybrid teas 6 to 8 weeks from this pruning and feeding; floribundas and miniatures will take a little less time. This cycle of bloom is the second best of the season and necessary to achieve maximum potential. Exhibitors are pruning and planning to time for the fall shows in the Pacific Southwest District. Two shows of interest: Palm Desert (November 9) and Mesa, AZ (November 16).
After pruning, restart your feeding program. Make sure the plants are thoroughly watered the day before you feed. I recommend organic types and alternating with fish emulsions. Use a fertilizer that contains greater percentage of (P) phosphate in relation to (N) nitrogen and (K) potassium. This will encourage stronger root systems and thus boost resistance to stress. If temperatures are in 90s or above and you do not use organics, hold off fertilizing until weather cools down. If you use a fertilizer that is first dissolved in water, apply it right over the bush from top to bottom. A hybrid tea needs about two gallons of solution and should be watered in after a couple of days. If you use a dry granular product, scratch it into the soil surface around the base of the plant to drip line, and then water it in. Apply at the concentration recommended on label. If growing in pots, use half the recommended concentration but apply it more frequently. Repeat your applications every two weeks. The last date for fertilizing is 30 days before the frost date, which is around mid-November in the Temecula Valley.
When temperatures continue to be in the 90's, it is necessary to ensure plants receive adequate water to stay hydrated. It takes only a few days in these temperatures without sufficient water for a bush to become seriously stressed and even damaged. I suggest that HT rose bush can survive with 3 gallons of water twice a week, so make that your absolute minimum. A layer of 4 inches of mulch will greatly reduce evaporation of soil moisture. The composition of soil effects the time for soil to dry out. Recent rain though hardly enough to change much does help in bathing the leaves with moisture. Soil dries out more quickly due to less water being applied, in general. With potted roses this is even more critical. Assess conditions every morning. Look for wilted or dry, crispy foliage. If you discover it soon enough, dousing with plenty of water may save the plant. If you wait to inspect until the afternoon or evening it may be too late or you might not get a good assessment of the plant's condition: After a hot day, most plants can appear a little wilted while still receiving sufficient hydration.
Also inspect your irrigation system to make sure it is delivering enough water, isn't clogged, and isn't over watering – all problems that come with age in drip irrigation systems. If an emitter is delivering much more or much less water than others on the line, it can change the system pressure and affect the other emitters. The simple solution: Replace it! If a clay pot is used then more water is needed as the clay will absorb moisture from the potting soil and evaporate through the porous clay material. Plastic pots are better as they will not absorb moisture from the soil. Another possible problem with potted plants is the soil can pull away from the sides of the pot and water will just run through and out the drain holes in the bottom. This problem can be corrected by pressing the soil back against the inside sides of the pot when the soil is wet. Most people use black plastic pots as containers, these tend to heat the soil in them from the sunshine, an added reason to check these plants frequently for soil pulled away from the sides and damaged roots from the heat. Ideally these pots should be placed in another larger one for some insulation.
It's not too early to start thinking about which roses you will remove and what you'll replace them with. Very few suppliers have catalogs any longer but most have online catalogs. If you haven't mulched recently, estimate the amount of composted mulch you'll need in order to cover your garden beds 4" deep and plan to buy it for this coming winter or spring. An area 10 ft. x 5 ft. will require 4-5 cubic yards of mulch.
Spider mites are a common problem when hot, dry, dusty conditions prevail. This topic was covered in a previous care column which you can find on TemeculaValleyRoseSociety.org newsletter; look for Care in the September 2013 newsletter. There has been a more recent invasion by Chili Thrips, which are even smaller than the thrips we've encountered in the past. They can do more damage and quicker. Control requires constant vigilance and spraying (sadly). Some control has been achieved with use of a Spinosad bacterial spray, which I have used with some success on early detection of the symptoms. For more serious symptoms and/or delay in treatment, consult the local horticulturist or county extension for Chili Thrip pest management to identify more effective pest management alternatives. In all cases, read the label carefully for what it treats, and apply it by carefully following all directions.
A valuable bi-monthly magazine which covers rose topics is the American Rose published by the American Rose Society (ARS). Go to www.rose.org/publications for more information on obtaining it.
When you have a moment to spare, or feel the need to get away, or when the day cools down, take your favorite beverage, a picnic basket, and visit our local one-of-a-kind Rose Haven Heritage Garden, 30592 Jedediah Smith Road, Temecula (the cross street is Cabrillo Avenue).
---
For more ideas, visit TVRS' Rose Haven Heritage Garden. Click here to see the map to Rose Haven Garden in Temecula, as well as our Society web site at Temecula Valley Rose Society.org. Spread the joy of roses!