How We Control Gophers, Ants & Squirrels at Rose Haven
by Kathy Katz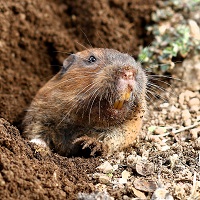 Tony Cherniss is our go-to pest control guy. His company is Vineyard Valley Pest Control, and he does commercial, residential and agricultural pest control. He was kind enough to instruct me about what he can and can not do to help us at Rose Haven. He is very knowledgeable about the least dangerous and safest methods of controlling pests. He is not a poison‑and‑leave kind of guy, and understands our position as a public garden. He is also interested in water‑wise gardening.
He suggested it would be very nice if we marked the places that have gophers to save him time and our finding the same place over and over again in that big garden. So, we will have 4‑foot pieces of white plastic pipe available in the tool shed to push in new gopher holes to mark them for treatment. If you think you see a working gopher hole go ahead and mark it.


If a gopher hole is open it is old and does not get treated. Active holes are carefully plugged by the gophers. You can usually look around the site and see other mounds and shoved up dirt in that area.
We are going to have squirrels; the dry riverbed is a perfect ground squirrel habitat. We can minimize them by making sure that we do not provide them with more of the plants they like to eat. We can put gravel and other rocks in the holes we want them to leave; it may or may not work. We can make them less comfortable, but trying to fill in with concrete will just encourage them to dig under it and not solve the problem. The Water district does not want us to bait or poison them as the residue can get above ground and affect dogs, children, etc. (Squirrels fill their cheeks with food and carry it around with them, burying it and leaving it where they wish.)


Most of the ants in our garden are native Harvester ants. We can ask them to move by using pea gravel, or other gravel, or coarse decomposed granite around spots where they are not welcome. They like areas where there are weeds; they harvest the seeds. (Letting certain weeds grow is how we have encouraged the wildlife at our home without feeding the vermin.)



If we see small black ants they are likely the invasive Argentine ants. They are only seen where there is irrigation. I do not know how to discourage them except to make sure we only irrigate where we need it.
---
Photo credits:
• Botta's Pocket Gopher; Photo courtesy of iNaturalist.org
• Western Gray Squirrel: Debra Turner & Conboy Lake National Wildlife Refuge
• Harvester ant: Photo Credits - © Peter J. Bryant & Laguna Wilderness Park
• Argentine ant: Image courtesy of Alex Wild, UCR, Center for Invasive Species Research