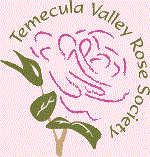 Temecula Valley Rose Society
---
2011 1st Bloom Party
This page may appear better if viewed in landscape orientation.
May 21, 2011
The First Bloom Celebration commemorating Rose Haven's 20th anniversary was a grand success. It was a beautiful spring day and the garden looked splendid. Ann Coakes and her volunteers had everything set‑up just in the nick of time when a huge bus and several cars arrived early. Visitors came out in droves walking, talking, taking photos and asking all kinds of questions. Many local people did not know the garden existed. Sales and donations were much appreciated and all proceeds will go to the maintenance of the garden. Thank you to all our volunteers on this project for their time and energy. Without you this event would not have been a triumph.
A week before the celebration Cub Scout Troop 301 cleaned up weeds in the courtyard and special events area. Thank you to Amy Bentley for organizing the activity. We certainly appreciate all the work Scouts and their families provided.
A bit of relaxation is in store for June. Please come out and enjoy the garden at your leisure. (The garden is open every day from dawn to dusk.) We've worked hard to provide a wonderful venue for the community to enjoy. One immediate task is to have stabilized decomposed granite spread in the courtyard to enhance its appearance.
Rose Haven is located at 30592 Jedediah Smith Rd., Temecula, at the corner of Cabrillo Avenue and Jedediah Smith Rd.
| | |
| --- | --- |
| Roses in Bloom | First Bloom View |
| First Bloom Visitors | Great Band |
| Bird House Vendor | Quilt Vendor |
| Ron, Phyliss, Simonne, Rebecca | Sales |
| Second Hand Treasure Customers | Riverside Rose Group |
---