Temecula Valley Rose Society

Rose Haven Heritage Garden
---
AFTER HOURS
If you see a water leak please phone (951) 693-2814.
If you see an unattended running hose please turn it off.
---
Quick questions? Go here.

<== Click here for larger image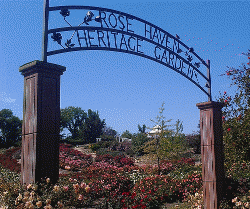 Our garden, begun in 1991, is home to approximately 1,600 roses: hybrid teas, floribundas, climbers and mini roses. In addition, there are many succulents and xeriscape plant sections. Our January and February workshops, open to the public, concentrate on pruning, while March and April activities include pruning and fertilizing.
First blooms are enjoyed during April and May. June through August are spent weeding and deadheading.
The cooling in Autumn brings another flush of bloom before we let the garden slip into dormancy at the end of the year.
Rose Haven is located at 30592 Jedediah Smith Rd., Temecula, at the corner of Cabrillo Avenue. From Rancho California Road drive south on Ynez Road 2-1/2 miles to Jedediah Smith Road, then turn left. Rose Haven is one block from the intersection of Jedediah Smith and Ynez. (Be aware that Ynez turns into De Portola Rd. at that intersection!)
Rose Haven Heritage Garden is a member of the American Public Gardens organization and also a certified wildlife sanctuary recognized by the National Wildlife Federation in 2011.
Visitors (and photographers) are always welcome, and there is ample parking on site. Professional photographers are expected to make a suitable donation for using the garden. Contact us at RosehavenTemecula@gmail.com for further information.
The garden is open every day of the year from sunrise to sunset. Please do not cut the flowers—leave them for others to enjoy.
---
Special Events
Saturday June 25, 2016  Night of the Luminaries candle lights at Rose Haven.
  See images from the event here: Night of Lights Courtesy: Press-Enterprise

April 2015 Families in the Garden Activity

June 2014 Summer Solstice Party

May 2013, First Bloom Celebration

October 2012, "Last Rose of Summer" Garden Show

May 2012, First Bloom Celebration


---
Rose Haven Chat Articles
Jump to Kathy Katz's 2013 Rose Haven Chat Articles.

Jump to Kathy Katz's 2012 Rose Haven Chat Articles.


---
 Want to work in the garden this week? Here's a three day weather forecast for Temecula.

See the garden projects and events list.

Go to our Facebook page on youth gardening.

Help us control the gophers, ants & squirrels at the garden. Click here for pest control tips at Rose Haven.


View a plan of the garden layout.
Did She Say Yes? Rare SoCal Snowstorm Prompts This Beautiful Wedding Proposal Story
This week's snowfall in Temecula made for some especially significant memories for some families. Here's one.
PHOTO: A SoCal couple gets engaged at the Rose Haven Heritage Garden in Temecula, Calif. on Dec. 31, 2014.
By Renee Schiavone (Patch Staff) January 2, 2015 at 1:40pm
PHOTO COURTESY: Amber Thomas.

When Southern California residents awoke this New Year's Eve to the region blanketed in white from a rare snowstorm, it made
for many beautiful memories and photographs. And for one local couple, it was a life-changing day.

That's because on Dec. 31, Peter "Scooter" Minegar took the opportunity to propose to Samantha Lawless in a snow-covered
Temecula park, in a story best told by his sister, Amber Thomas:

"He had planned on proposing that evening and had made a beautiful plan for the day but then there was the snow," Thomas told Patch.
"So my mom and I woke him up and said, 'you've GOT to do it in the snow' (Sam has always said it would be a dream to get engaged in the snow)."

"While he picked her up, my mom, other brother and I went and hid in the bushes around the rose garden so we could take pictures
of them," she said. The result was the beautiful photo attached to this article–and a YES from Samantha! Congrats to the happy couple!


    
---
Read Karen Ortega's history of Rose Haven Garden and the Rose Society.  Click on this link.


View May 2010 scenes of the Garden.
View July 2008 scenes of the Garden.
Read the Californian newspaper article about the garden bench built by Eagle Scout Christopher Le.


Read the Press-Enterprise newspaper article about the Chaparal HS kids project at the garden.


Read John Hunneman's Californian newspaper article about the garden.


Read Carl Love's Press Enterprise newspaper article about the garden.


Read about and view photos of our 2006 Metropolitan Water District Grant.


 See a short garden video on YouTube.


---

Map to Rose Haven Heritage Garden
30592 Jedediah Smith Rd.
Temecula, CA 92592

DO NOT SEND MAIL TO THIS ADDRESS—THERE IS NO MAIL BOX HERE.

To contact us phone 951-526-7436 or email here.

GPS coordinates: 33.480642 -117.122064

To see Google's Street View click on "View Larger Map" then drag the orange man (left side of map) over the green arrow.
Position the green circle under the man to mark the Street View starting point.


  Frequently Asked Questions


When is the garden open? The garden is open during daylight hours.
Is there a charge to visit? There is no charge to visit but donations are most welcome.
Do I need to make a reservation? No reservation is necessary.
Is there a picnic area? Yes.
Are there restroom facilities? Yes.
When is the best time of year to visit? Spring and Fall have the best rose display.
Is the garden available for weddings and similar functions? No, not at present.
Is the garden handicap accessible? There is very limited accessibility.
Are children's programs available? Yes, on the menu click on Gardening for Kids for information.
Who owns the garden? The Temecula Valley Rose Society, a non-profit organization.
Can I volunteer to help maintain the garden? Yes, contact a Rose Haven co-chair for information.




---
Rose Haven Since 1995

1995 - Google Earth

2005 - Google Earth

---

2011 - Google Earth

2016 - Google Earth

 
---