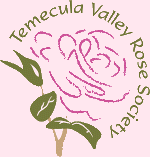 Temecula Valley Rose Society
---
Annual Rose Show FAQs
---
2015 Rose Show & Art Festival
April 25, 10 AM to 3 PM




Come and enjoy beautiful and exotic roses displayed at our Annual Rose & Arts Festival on Saturday, April 25th from 10:00am to 3:00pm. The theme this year is "May Pole," and the show will be held at the Temecula Assistance League Meeting Room at 28720 Via Montezuma, Temecula, CA. Admission is free and it is a fun family event.

The show includes:

• Elegant table settings and original artworks by local artists.
• You will have an opportunity to vote on your favorite rose exhibits.
• Come and learn about rose care, cultivation, and see floral photography and all variety of rose displays.
• Light refreshments will be available.
• The Rose Society will be having a plant sale.
• Rose enthusiasts are invited to participate and display their roses in the competition. Bring your entries to the Assistance League Meeting Room between 8:30am and 10:00pm on Saturday, April 25th.


---
The Society is considering allowing the entry of photographs of roses into the annual Rose Show. If this is permitted further details will be posted here and on the annual Rose Show web page. In the meantime, as a start, read the following article on how to photograph red roses. Start taking your pictures now to be ready for the next rose show!
How To Photograph Red Roses
---
Q: Why should I participate in a rose show?
A: Read the primer: Why do we show roses?

Q: What is the annual Rose Show Garden Party?
A: It is an exhibition of roses other flowers grown by Members and Temecula residents.

Q: When it is held?
A: On a Saturday and Sunday twice each year (usually May & September).
  The exact date will appear on our web page several months in advance.

Q: Is there a fee to enter?
A: No, although a small donation may be requested.

Q: Where is it held?
A: At the Temecula Assistance League, 28720 Via Montezuma, Temecula.

Q: What else happens there?
A: There are several seminars on rose care and cultivation, some light entertainment,
  vendors selling plants and miscellaneous trinkets, some activities for children.

Q: Where can I obtain a schedule of entry categories and rules?
A: Go here for the May 2013 schedule.

Q: How do I get more information?
A: Phone Linda at (951) 694-8968 or e-mail her at

---
Previous Rose Show Scenes
| | |
| --- | --- |
| | There's a lot to set up. |
| | |
| The show occupies the whole hall. | |
| | |
| Table art entry. | |
| | Roses on hats, too. |
| An entry in the 'Bloooming Art' category. | |
| | |
| The judges start their work. | |
| And the winners are... | |
| A class on rose care. | A class on arranging. |
Page Top
---