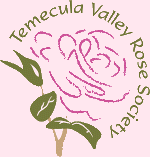 Temecula Valley Rose Society
Rose Haven Garden Projects
---
Jump to Current Rose Garden photos.
Jump to 2010 Last Rose of Summer party.
Jump to Vogel Iris Garden project.
Jump to Metropolitan Water District Grant project.

---
View a street map to Rose Haven: 30592 Jedediah Smith Rd., Temecula.

View a plan of the garden layout.
---
Rose Haven Projects Wish List
 Our appreciation goes out to all of our Society Friends since 1990 who have shared in the vision and the promise of a rose garden. A garden is always evolving and our wish to grow our garden continues. Our current list of items and projects is:
Planned

Eagle Scout projects: stone bench at pond, information boards, rehab of selected garden area
Concrete table and benches (2) for the picnic area.
Funding for signage of garden plants and features of interest.



Being Developed

Youth Garden area.



Done!

Build a shade structure in the Education Area (May 2017).

Done!

Grade & provide erosion control for MWD access road (2016).

Done!

Add fencing for the Tree of Life area (2015).

Done!

Non-slip composite material for pathways (2015).

Done!

Build steep hillside stairs (2014).

Done!

Erect new monument sign at the corner of Jedediah Smith and Cabrillo Ave. (2013).

Done!

Lay pavers for the Entry and Courtyard area (2010).

Done!

Build perimeter fence of roses along Cabrillo Ave. (2009).

Done!

Install water refill skimmer and timer for the pond (2009).

Done!

Seal-coat the driveway (2008).
Donation Form.
 The Temecula Valley Rose Society is a non-profit organization that relies on dues, donations and volunteers. All gifts are greatly appreciated and tax deductible to the extent allowed by law. Checks should be made payable to 'Temecula Valley Rose Society' and sent to Treasurer, TVRS at P.O. Box 890367, Temecula, CA 92589. Please include the Donation Form and indicate your project designation(s). For questions, please call (951) 693-2814.

Jump to page top.
---
The Norma & Leon Vogel Iris Garden
A portion of the Rose Haven Heritage Garden has been set aside to accommodate the donation of 50 irises by Norma and Leon Vogel. Their donation, which is greatly appreciated, is described in the following article, taken from The Californian newspaper.

By JENNIFER KABBANY - for The Californian, March 14, 2009.


TEMECULA — Norma and Leon Vogel's backyard boasts hundreds of irises, so donating 50 potted irises to the Temecula Valley Rose Society wasn't a stretch for the Murrieta couple, they said.
"We love irises, and we thought it would be a nice way to get them in front of the public," said Norma Vogel, 89.
The donation reinforced the couple's commitment to spreading the joy of gardening and their love of irises, society members said Saturday, as they worked to plant the flowers in their 3.4-acre Rose Haven Heritage Garden.
Rebecca Weersing, past president of the society, said planting the irises also illustrates the continued growth and improvement of the heritage garden and the society's effort to offer something special and beautiful to the community. The Vogels are part of the Temecula Valley Garden Club, whose members were on hand Saturday to help with the planting. Chaparral High School students also pitched in as part of their Regional Occupational Program class.
"This is a wonderful step forward in our collaboration with other groups in developing the garden as a community resource," Weersing said. "The Vogels represent the beauty and the caring that can be shared through the love of gardening."
The garden is open from dawn to dusk all year and is free to visitors, she said.
In April and May, when the roses bloom, the garden comes alive with colors and fragrances, she said.
"It's very cathartic to come out to nature, to enjoy the quiet," Weersing said.
The garden's bloom will be an especially impressive sight this year thanks to the ongoing help of the ROP class, Weersing said. Over the last two months, the Chaparral students have helped with weeding, clearing debris, trimming trees and bushes, spreading mulch and other projects, she said.
Teacher Emmett Keith-Jones said his marketing students are using this service-learning project as a tool to practice their networking skills as well as create a lasting legacy in the community.
"It's marketing in action," he said.
Senior Jesse Parnell, 18, said the project has been a good thing so far, forcing him to practice his communication skills with society members and giving him a chance to tell people about his fledgling computer business.
"Helping (the society) people is what you should do," he said. "And marketing takes communication."
The rose society, founded in 1990, has about 100 members. It meets from 10:15 a.m. to 1:30 p.m. on the third Thursday of each month, except July, in the community room of the Temecula Public Library on Pauba Road. Its heritage garden in southern Temecula off De Portola Road is home to more than 1,600 roses, according to society members.
As the teens helped spread mulch around the 18-year-old garden Saturday, others were busy at work planting the Vogels' irises in a special part of the garden lined with decorative rock.
The society plans to install a plaque in honor of the Vogels where the irises are planted.
"It's a marvelous thing they did," society President Ron Rumbold said of the donation. "It enhances the overall garden."
The Vogels, who have been married for 69 years, are not just iris lovers, but award-winning iris growers.
In 2005, their irises won best of show at the San Diego Iris Show, the Temecula Valley Garden Club Show and the Fallbrook Garden Club Show. Their backyard has also served as a backdrop for a UC Riverside landscaping class. Leon Vogel, 90, served as editor of the San Diego Iris Society monthly newsletter for about a decade. On Saturday, Leon Vogel was a bit under the weather. He watched quietly as the irises were planted. In a written statement, he said it was a privilege to add his irises to the garden.

The Vogels have done their own work with community service projects. Leon Vogel used to play a large role in St. Catherine of Alexandria Catholic Church's food pantry. Norma Vogel, a quilter, has donated her creations to Moms in Touch International, a Christian group of mothers across the globe who pray for their children and schools.

"They are Temecula treasures," society member Kathy Turgeon said of the Vogels, while watching some members work the ground to prepare to plant the irises.

"They have done so much for the community."



Jump to page top.
---
Last Rose of Summer Party – October 9, 2010
 The Last Rose of Summer event is an annual fund raiser to promote, develop, and maintain our garden. Live music was provided this year by the Valley Winds Swing Band. Light refreshments were served as visitors enjoyed the garden and music.


| | | |
| --- | --- | --- |
| Ann & Friends | Broadbeck, Nelson, Marlow, Ron, Sochie | Don Nordike |
| Food Line | Guests | May, Don, Lyse |
| Pat, Tom, Marian, Margaret | Roberta & Friends | Ron, Sochie, Bernice |
| Smith & Powers | The Band | The Powers |


Jump to page top.
---
Current Rose Garden Scenes
Rose Haven Scenes

Jump to page top.
---
The Metropolitan Water District Grant
MWD Grant Project Photos

Jump to page top.

Return to home page.
---