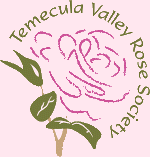 Temecula Valley Rose Society
---
About Us
The Temecula Valley Rose Society is affiliated with the American Rose Society. As a nonprofit public benefit corporation our purpose is to encourage the appreciation, study and cultivation of roses.
The Society meets on the third Thursday of each month, except July, from 10:00 AM to 1:00 PM in the Community Room at the Temecula Library, located at 30600 Pauba Rd., Temecula (click to see a map).

Occasionally meetings are held on a different date or location, depending on the program. Members will be notified at prior meetings, through the eNewsletter and through this web site.
The Temecula Valley Rose Society was founded in 1990 and currently has over 75 members.
Activities Promoted by the Society
   Rose Show & Art Festival: Annually during the month of May. This is for non-professional exhibitors.
  There will NOT be a one-day rose show in 2017.

Blooming Angels: Rose bouquets for Community Outreach. Bouquets from Rose Haven Garden are taken each week during the blooming season to the Temecula Chamber of Commerce and to Murrieta City Hall.

Flowers for Friends: A joint project with the Friends of the Temecula Library to decorate the library with roses. Mondays, May through October.

Rose Haven Heritage Garden: A 3.4 acre garden containing over 1,900 rose bushes, and a variety of other water-wise plants, planted and maintained by the Society.



For More Information

For questions regarding rose care go to Rose Care Tips, or

send an e-mail to the

For monthly meeting information click here.

For membership information click here.

For Board and Committee information click here.

Our mailing address is:
  Temecula Valley Rose Society
  P.O. Box 890367
  Temecula, CA 92589

We also can be contacted
 by phone at 951-526-7436
 by email at RoseHavenTemecula@gmail.com




---